Portara
Front-End Extraction Software with CQG Data Factory
Portara® Data Factory extraction software, Portara Charts™, allows you to create continuous back-adjusted streams from CQG historical intraday, daily futures, cash, and forex data. Intraday and daily databases are local to your machine extracting ASCII to any time frame and format for all backtesting platforms. Portara Charts is a completely integrated historical data solution. Portara Charts includes session time extraction and cross-pit/cross-electronic coupling. It includes an intraday/daily updating service immediately after the US market closes for timely decision-making prior to next open. It appends the updates to your bespoke continuous streams without the need to re-run or re-roll the data after each update. It can create Regular Trading Hour (RTH) daily bars and limitless combinations of intraday modeling. A subscription to CQG Integrated Client or CQG API is not necessary.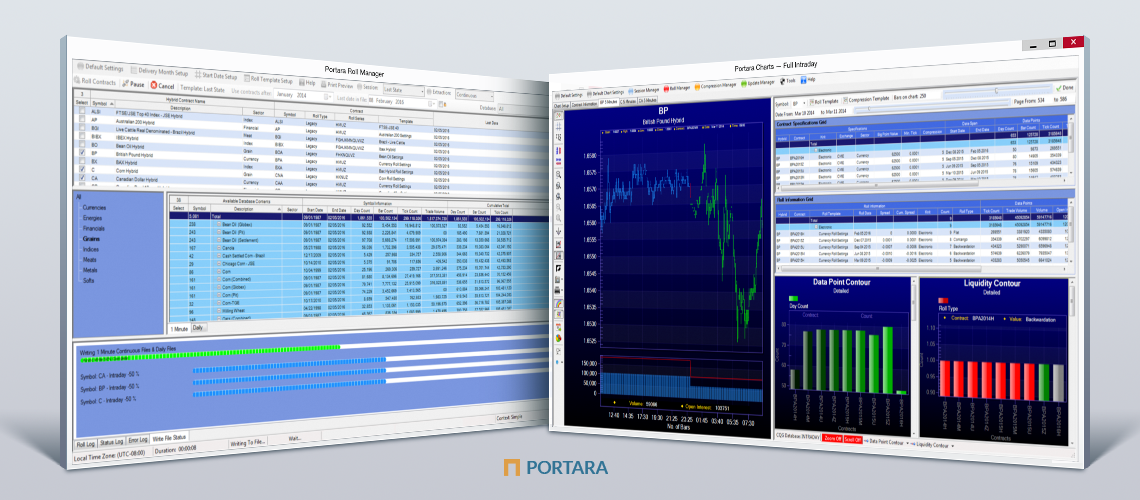 Features
Create continuation data based on custom fully flexible sets of roll parameters, including custom session times.
Extract actual data (tenors) based on custom session times with any compression and formats.
Remove illiquid morning and evening sessions and create intraday and daily data with custom OHLC data points.
Perform data modeling - Portara allows you to change historical data by increasing volatility, altering data behavior, cutting the time frame of each day, randomizing opens and closes in the data stream, etc. - data manipulation tools for robustness testing of your trading strategies.
Export data in any custom configured format - You can seamlessly plug Portara-prepared and modeled data into any third-party application.
Export data in any time zone, including your local time zone, exchange time zone, dual-DST globally compliant, etc.
View actual, tenor, and continuation data in charts within Portara with quick and easy visualization regardless of your customizations.
Automatic updates from CQG keep your local databases current in the background. Use batch files to schedule auto-exports and much more.
Portara uses an alternative subscription-based pricing model, making it affordable to any hedge fund or CTA regardless of budget.
View a 90-second demo of Portara in action ‌‍‍‍‍